This page contains additional Camping information and tips from scout handbooks and field books and new research on camping stoves. Tips from scouts and scouters. Considerig that the 9th edition Scout Handbook had 574 pages and the new Scout Field book has 614 that is a total of 1188 pages. Much of that information is on this web site but good ilustrations that we have found in many cases are not as good as what is in these two books. We cannot use illustrations from these books because of copyright laws. So we say that you would do well to obtain a copy of the 9th Edition Boy Scout handbook (the best) and the new Scout Field Book. they can be found online since local stores are no longer allowed to sell them.



Fire Lays

What is important is that you have lots of fine tender to light the twig size and lots of twigs to light the finger size and enough finger size to light the thumb size and enough to light the next bigger size. Failure to do that ends up with just smoke and no fire. It is a good idea to practice with real wood at home in your own outdoor grill.

Reflector fires simply reflect more heat towards a tent for heat and drying or toward reflector oven to aid in cooking. This is ideal for baking. You can buy Bisquick in a box. Make a depression in the powder, put in a little water and mix the dough right in the box. Then you can place in a reflector oven or around a big stick or in foil to bake.



Reflector Ovens
Reflector ovens can be made from foil, cans, Aluminum, cardboard boxes covered with foil, flat wood, animal hides and flat rocks.

This box could be used at a fire or in the sun.

It is best to experiment before you go try this at camp.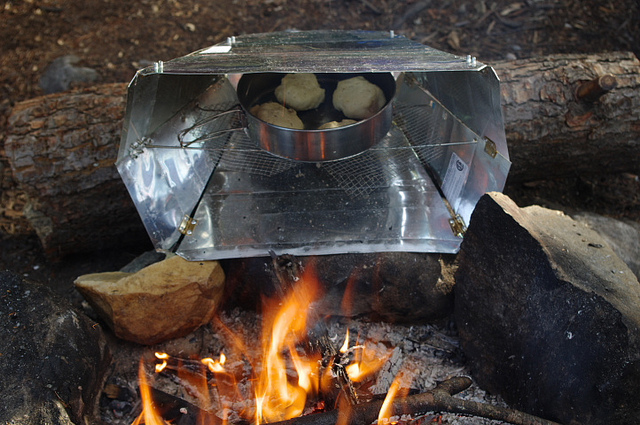 Reflector cooking is slow cooking. The fire has to be attended.

Solar Oven
In making stew after sitting in the sun for an hour the water was too hot to put a finger in. Two hours after setting it out the water was rolling in a slow boil. Here was used raw potatoes, carrots, and onions along with a jar of canned venison chunks. This requires a dark colored pot to absorb the heat. After 5 hours the veggies were soft.
Look up recipes for reflective and solar cooking for better results the first time. Solar cooking is usually slow cooking unless you have a big array that reflects more of the sun's rays on the pot. This is does work a little on cloudy days but not during bad weather. The reflectors need to be adjusted at least every half hour due to change in sun position.


Capturing Heat Research.
This booklet also has a great plan for a do it yourself solar Cooker. Not the one pictured.

Cooking with Foil
Saves time, gets you out of washing pots, light weight, food can be frozen and stored in lightweight thermal bag



Foil Packet Recipes and tips for using foil


Campfire Foil Packs


Top Foil-Wrapped Recipes


Tips and Recipes for Foil Wrapped Campfire Cooking camping stoves,


Stoves not necessary but save time
New Ideas are changing the way scouts cook. No more big fires are needed. No more big stoves. No need to cut wood, Now you can create your own fuel and cook in an efficient little stove that only weighs ounces. Here is a look at what has been used in the past.


Above hobo tin can style stove and at right Grilled Cheese cooked directly on can top. And those are probably potatoes wrapped in foil baking in the coals.
Short video of scout showing how quickly cotton ball lights with spark and compares which is better to use with wax or vasoline.


Another tin can style and to right raised charcoal style tin can stove. You can experiment with which kind you prefer based on your own experience in your own backyard. You can use juice cans or number 10 cans which are available from any restaurant.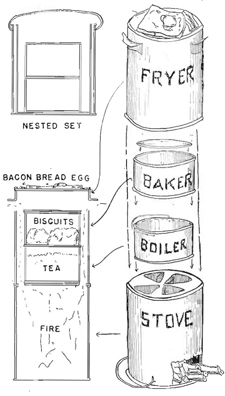 Coat hanger wire or heavier wire can be used instead of chicken wire or cutting metal to make shelves.


Other possibilities. Consult books on tin can cooking. Fuel for stove made from paraffin and candle and or cardboard. The more wicks the hotter the fire. Some scouts have stated that one of these lasted all week in cooking one person meals because it can be extinguished and re lit when needed.


Just put your Canteen Cup or other style pot on top, put in a heating tab, light it and your all set. The stove fits conveniently around a canteen cup and then whole thing stores in the canteen pouch . Used very good condition. Canteen cup sold separately. Used good to very good condition. $6. from Joe's Army Store Woodward 131/2 Royal Oak Mi Joe's


Lightweight and Compact, Lights easily with matches, Great for Camping, Hiking, Hunting, or Emergencies, Contains 24 Fuel Tablets, Each tablet burns for about 9 minutes, Prices range $6-9.
Coleman solid Fuel Folding Stove
Tablets cost between 12 cents and 50 cents each.


Titanium stove weighs only 0.4 oz. and folds down to 1.1 x 3.3 in., so you'll barely notice it in your backpack Stove is powered by Esbit solid fuel tablets (sold separately); tablets generate up to 1,400°F of intense heat and burn for about 12 min. each. Each fuel tablet weighs 0.5 oz. Esbit Titanium folding stove Includes a mesh storage bag. Note Lightest stove I have found. Fuel tablets available at sporting stores.

Wetfire Tinder 5 tablets for $5 at Meijers


Sterno Folding Stove sold almost everywhere or $5-6. fuel can lasts 2 hours. $2. each


Most any sporting goods store will have little folding stoves from $5 and up. They are lightweight and save you time. They can use ,many fuels including sternos, fuel tablets, gas flame, wood, candles and home made wax burners. Wood is free. Six hour tea candles price 25 cents and up.
Portable Stoves Reviewed Find out which stove is best. Other outdoor equipment also tested.


Best stove could be Whisperlite pictured above. The reviewers points are: Small, simple, durable, inexpensive, versatile, Difficult to simmer, Best Uses: Whether it's backpacking, adventure cycling, or arctic expeditions, the Whisperlite can handle it all. Manufacturer: MSR a well known stove maker. Since its introduction in 1982, the Whisperlite has proven itself as the most versatile and dependable, lightweight, liquid fuel, portable stove on the market. If we were to have one stove this would be it. Street Price: Varies from $80 - $140 Uses Liquid fuel known as white gas. Weight (ounces) 11.5, Dimensions (inches) 6x4x4, Packed Volume (cubic Inches) 96, Avg Boil Time 3.85, Water Boiled Per 100g White Gas (liters) 6.7, Burn Time (max Flame) Per 100g 25.6, Additional Items Included Windscreen, heat shield, tool. The stove is controlled by a valve on the fuel pump, which sits 6-8" away.
Dislikes The Whisperlite does not light as fast as other stoves. The priming process involves releasing a small amount of fuel into the fuel cup, lighting it, and letting it burn down. This heats the fuel line enough to vaporize the fuel. The entire process takes roughly two minutes. While this isn't instantaneous, we don't think you'll be late to your next appointment. Regardless of the make and model, this process is roughly the same for all liquid fuel stoves.
Some complain that the Whisperlite is incapable of simmering. Fortunately this is not the case. The Whisperlite must be depressurized in order to achieve a constant simmer. Here's how: prime, light, turn off, release fuel pressure, pump three times, and light again. We've made dozens of slowly simmered culinary delights with the Whisperlite. These include bread, pizza, calzones, and brownies. Value For $80 you cannot buy a better camp stove.
Other Versions The Whisperlite Internationale ($10 more) is capable of operating on alternative fuels such as diesel, kerosene, gasoline, and jet fuel. The two stoves are mechanically identical with the exception of a wicking cup for lighting less flammable fuels and several interchangeable jets for different fuel types. This added versatility may seem appealing, but because white gas is widely available throughout the world we believe it's necessary only for a small percentage of users. Old scouter adds Karosene is much safer than gasoline.
MSR also sells an Expedition Maintenance Kit, which includes all necessary parts and instructions to disassemble and repair a damaged Whisperlite. With this, your stove is likely to last for decades.



About PocketRocket Backpacking StoveUltralight, Ultra-Compact: Weighs just 3 oz. (85 g), with palm-sized dimensions: 4 x 2 x 2 in. (10.2 x 5. x 5.1 cm). Simple Operation: No need for priming, pressurizing, or maintenance. High Heat Output: Boils 1 liter of water in under 3.5 minutes. Full Flame Control: Glove-friendly controls allow precise flame adjustment, from a simmer to a boil Wind Clip™ wind shield boosts efficiency in breezy conditions. $39.


About the Coleman Gas Stove. This stove heats faster and can use regular gasolene. But I still say gasolene is dangerous. Boils a quart of water in 4 minutes, Powerful, 10,500 BTU, Built-in pot support and wind protection, Filter funnel included, Dimensions: 7.38 in. x 7.8 in. x 6.55 in.

Colemanbackpackstove Price $59. Operates on widely available resealable butane/propane cartridge model 3250

ColemanPowerPackStove Serve up hot breakfasts and dinners on the trail when you pack the Coleman® PowerPack™ Stove. This one-burner cooking tool is designed with a large 8-in. burner bowl with a unique pot support system that distributes heat evenly while reducing cooking time. The fully-adjustable heat goes from simmer to full boil with up to 7,500 BTU of power. Once it starts to heat up, Perfectheat™ Technology gets the temperatures just right and the PerfectFlow™ Pressure Control System keeps the heat steady—even in cold weather, high altitudes and when fuel is low. One 16.4-oz. (494 g) cylinder of Coleman® Propane will last up to 2.2 hours on high or 9 hours on low. 7,500 BTU burner adjusts from high to low for optimal cooking performance, Lightweight, low-profile design & compact to store, Price $45. Portable propane powered uses standard 16.4 oz.(494 g) Built-in, sturdy pot supports, Dimensions: 13.38 in. X 12.5 in. X 4 in. ColemanPowerPackStove


Biolite Wood High Tech Camp Stove

There are four videos on this stove. After you see the first one click on the video at the bottom right. You must see this thing in action.
The BioLite Wood Burning CampStove™ combines the benefits of a backpacking stove and an off-grid power charger so you can cook a meal while charging your gadgets at a backcountry campsite.
There's no need to buy or carry heavy fuel canisters with this stove—simply collect twigs during your journey and burn them when you get to camp
Using patent-pending thermoelectric technology, the stove converts heat to electricity that charges an internal battery and powers a fan to increase the efficiency of the fire
Extra electricity can be used to charge small electronics like cell phones, headlamps and rechargeable batteries via the USB port; devices and charging cables sold separately
For an Apple iPhone® 4S, 20 min. of charging with a strong fire gives you about 60 min. of talk time; charging times vary by device as well as by the strength of the fire
During a full burn, the CampStove can boil 1 liter of water in as little as 4 min. 30 sec.; place your pot or pan on the built-in pot support
Like a campfire, you can sit around the CampStove and watch the flames dance while you roast marshmallows and spend time with friends
Twigs from hardwood trees, like oak, maple and hickory, will burn hottest and cleanest; choose wood that's dry, CampStove can also burn wood pellets (available at many home and garden stores) if you're camping in a spot where you're not allowed to collect twigs or trees aren't present.
BioLite CampStove weighs about 2 lbs.and is about the same size as a 1-liter Nalgene water bottle; power module stows inside the fuel chamber when the stove is not in use.
Anodized-aluminum legs create a stable platform for cooking; legs fold in for compact storage when you're done making dinner.
CampStove's starter battery helps kick-start the fire before the stove begins generating its own power so it's best to charge the battery for 2 - 4 hrs. before leaving home.
BioLite CampStove comes with firestarter, stuff sack, USB cord for charging the internal battery and instructions for use; does not include a cable for charging devices


Video about using Biolite Stove

Hexagon Wood Stove You can use sticks and twigs to cook your meals. weighs only 4.1 oz.; titanium panels stand up to hot temperatures, folds flat, Conical shape focuses heat upward for efficient cooking; Hinged access door $59.

Well this takes us back to the Hobo tin can stove which many scouts use with charcoal. This is cheap, light weight, burns hot, burns long, can be put out and relit. and Is consistent But not quick. So do some experimenting, talk to other scouters and decide what works for you.

Charcoal burns hotter, cleaner, and more evenly than wood, air is fuel as much as is the charcoal so give your fire some air. Hottest heat is about 1 inch above burning briquette.
MSR company site
Coleman company site


PROS AND CONS OF FUELS AND STOVES
JUST A FIRE ALONE Lowest cost, But much more time consuming, wood availability uncertain, may have to pack in wood, cooking time uncertain may be impossible in wet weather. May not be allowed in some places.
SMALL wood or other solid fuel burning STOVE are more efficient than just a pile of wood as uses less fuel and less affected by wind. More reliable cooking as pots are held above fuel. Low cost, takes time to find wood unless it is brought with you, Takes a few minutes to get fire going unless fire starter used or camper has skill. And it takes a few minutes for wood go get burning well.Cooking time is more reliable, fire has to be tended and new wood added. But stll better than with just fire alone. If the newer stove designs are used even the free do it yourself stoves can be very efficient. During bad weather home made fuel such as wax coated cotton balls can be used which may burn for as much as half an hour which is enough to cook a meal. These stoves can be small and lightweight. A small bag can be used to pick up fuel on way to campsite. Hardly anyone objects to one picking up dead twigs and weeds. With the new stove designs such as the gassifyer and Jet a handful is all it takes to cook a meal.


CANDLES USED FOR FUEL Must be wind shielded, slow cooking, slow boiling, low cost, reliable, dependable, have to be stored away from heat. A weeks worth of fuel may be bulky. Clean burning, easy clean up.
FUEL TABLETS more expensive, slow cooking, slow boiling, reliable, dependable
HOME MADE FUEL CANDLES SAME AS FOR CANDLES BUT IF MULTIPLE WICKS USED CAN INCREASE HEAT. Clean burning, easy clean up.
ALCOHOL BURNERS Must be wind shielded, slow cooking, slow boiling, reliable, dependable, may be more expensive depending on quantity purchased. Clean burning, easy clean up.
WHITE GAS STOVES Must be wind shielded, fast cooking, fast boiling, reliable, dependable, Less expensive than Propane. Clean, easy clean up. Cons Have to be primed, presurized. Gasoline can explode if carelessly used. Stoves sometimes need to have burners cleaned. Cooking very reliable. Easy to tell when fuel low. Andrew Skurka's calculation—60 cups of water heated per 8 ounces of fuel carried—is a good estimate for any canister or liquid-fuel stove. Your results, of course, may vary.

CANISTER propane. Isobutane burns hot and clean, and in colder conditions it outperforms conventional butane. MOST EXPENSIVE BUT SAFEST, fast cooking, fast boiling, reliable, dependable, Easy clean up. difficult to discover how much fuel is left which means one has to pack an extra canister. Probmatic in cold climates. No fuel spill risk. Heat output drops as canister empties. Fast maximum heat output. Good flame control (simmering) Upright models susceptible to tip-overs. In his book, The Ultimate Hiker's Gear Guide, author Andrew Skurka estimates a typical 8-ounce fuel canister should heat about 30 pints of water. That's about 60 cups. A freeze-dried meal usually requires 2 or more cups of water to rehydrate, so a canister is a good bet for 15 to 20 meals—barring cold temps, high winds or similar factors that could diminish stove performance.

If you look at what experienced back packers use they usually use either the Butane or the White gas stoves. And many scouts use the Hobo tin can stove with charcoal which is cheap, light weight, burns hot, burns long, can be put out and relit. and Is consistent But not quick. Needs a carry bag (could be just a small plastic trash bag) otherwise messy. and bulky. But using little folding stoves are cheap and solve the problem of bulky.



Attention Scouts New Research offers free stoves that need less fuel.
Something new and better than all of the above has come on the scene.
No it is not the tiny alcohol stoves that you can make from a pop can which is light weight, burns clean and hot. You can see demos of them on Youtube. I will not put them here because liquid fuels are dangerous and people are careless.

First you can now make your own fuel tablets which burn for around 30 minutes rain or shine. Use cotton balls or drier lint with an edge pulled to a point for a wick. Place these in an old ice cube tray which is then filled with melted recycled wax from old candles.
How to make fuel cubes with 30+ min burn time!


Attention Scouts New Research offers free stoves that need less fuel.
Something new and better than all of the above has come on the scene.
No it is not the tiny alcohol stoves that you can make from a pop can which is light weight, burns clean and hot. You can see demos of them on Youtube. I will not put them here because liquid fuels are dangerous and people are careless.

First you can now make your own fuel tablets which burn for around 30 minutes rain or shine. Use cotton balls or drier lint with an edge pulled to a point for a wick. Place these in an old ice cube tray which is then filled with melted recycled wax from old candles.
How to make fuel cubes with 30+ min burn time!

Now there are two newer stove designs which are more efficient than all of the above. The first is the Gasifierstove which first burns the wood then burns the wood gas making it much more efficient than a single wall hobo stove. Basically it uses two cans to make inner burner and outer shell with holes in special places to enable the gasification. These can be made from two ordinary cans. They take a little more time to make but are more efficient and use less fuel. The gasifyer is slightly more efficient in the burn than the Rocket. They can be a compact as whatever size of can you use.


Survival Gear Review: The Solo Stove biomass backpacking stove
DIY: How to make a backpacking wood gasifier stove
MsSpy's Wood Gas Stove
How To Make A Wood Gas Stove - Compact & Efficient! .

But the winner on fuel burning efficiency of build it your self is the Rocket Stove design. Even though the gasification efficiency is slightly less than that of a gasifier, Rocket stoves appear in tests to burn the least fuel and also are the fastest boilers. They are easy to start and burn any solid fuel. It is easy to add more fuel anytime. They create first charcoal then ash. Even after the "fire" goes out the charcoal burns for considerable time. That means that they can simmer and keep a pot warm for some time. For their greatest efficiency their burning tube should be a little longer than that of the gasifyer. For camping this doesn't matter. The home made free one can be built for portability. Rocket stoves are very simple. They consist of an inner vertical can burner, an outer can outside wall with insulation in between and a feed tube to feed air and fuel. By stopping the heat from escaping from the inner burner sides the stove achieves higher temperatures. This causes the gas and smoke released by the first fuel burn to also be burned in a second burn. An upwards draft then hits the cooking pot directly. Testing shows these to be more efficient than the gasifier design. Extensive research has shown this to be the most efficient stove type and is now being mass manufactured to be used by families around the world to save fuel. They can be constructed of any non burnable material.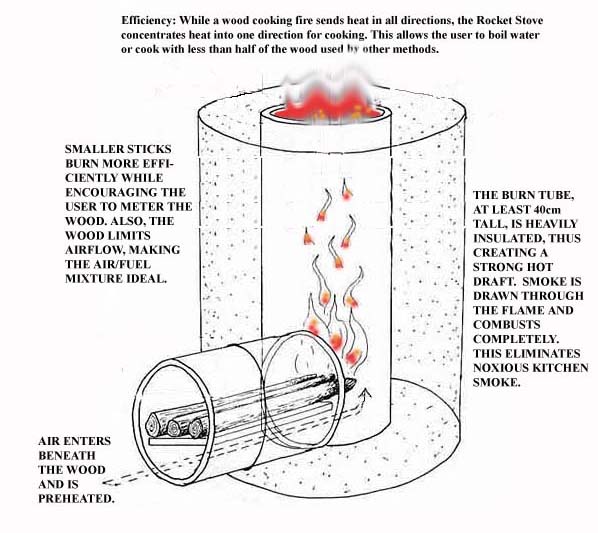 The same stove on the right fitted with an insulator and door for charcoal use may be the most efficient portable stove in the world. It takes the least fuel for most heat output.


How to Micro Rocket Stove
Best Rocket Stove Design Ever
The story of the Rocket stove
Site about Rocket Stoves
Capturing Heat Research.
Additional Zen stoves Modern designs. Shows new research in stoves. Has a wood properties chart. Very Interesting
website with review of camping stoves and types
The above link also has great chart showing BTU output per pound. Also includes several other types of heating methods such as flameless.
Scientific research on stoves



More Pioneering structures
Tips from Scout Handbooks

Making a blanket bedroll. Inter fold the two blankets so that they do not open from the same side if you want to be warmer. Blanket pins are big pins you can buy to pin blankets together. Tuck under the foot end.

Here is what Green Bar Bill showed in the scout handbooks he wrote.

If there is a brook nearby one can keep food cool in it by submersing it in zip lock bags of with pots.


Contact Axmanship looking for drawings
The only drawing of this I found was what Green Bar Bill showed in the scout handbooks he wrote. This is called contact axmanship.


I hope by presenting this that you will follow this safer method of cutting and avoid getting hurt. When cutting wood you can safely keep pieces of wood in contact with the ax while it is up and bring them both down together. Never cut towards yours or anyone else's body parts with any sharp tool. It is just not safe. That goes for licking sharp can lids. Sure you can get away with it but one slip and you will have a bloody trip to a hospital and a terrible painful miserable injury that will take weeks to heal.

Cordage
Cordage from plant fibers. Some vines and thin weed like plants are fairly strong. Most commonly used are the stems from nettles and milkweeds, yucca plants, and the inner bark of trees like the linden. You can shred and braid plant fibers from the inner bark of some trees to make cord. You can use the linden, elm, hickory, white oak, mulberry, chestnut, and red and white cedar trees. After you make the cord, test it to be sure it is strong enough for your purpose. You can make these materials stronger by braiding several strands together. You can use rawhide for larger lashing jobs. Make rawhide from the skins of medium or large game. After skinning the animal, remove any excess fat and any pieces of meat from the skin. Dry the skin completely. You do not need to stretch it as long as there are no folds to trap moisture. You do not have to remove the hair from the skin. Cut the skin while it is dry. Make cuts about 6 millimeters wide. Start from the center of the hide and make one continuous circular cut, working clockwise to the hide's outer edge. Soak the rawhide for 2 to 4 hours or until it is soft. Use it wet, stretching it as much as possible while applying it. It will be strong and durable when it dries. Above source http://www.wilderness-survival.net/weapons-4.php

Fish poison by immersing walnut hulls in a small area of quiet water. This poison makes it impossible for the fish to breathe but doesn't adversely affect their edibility. In a survival situation this is justified.


Tinder a material that catches a spark and burns quickly
Tinder for starting fires from cattail fluff, cedar bark, lighter knot wood from pine trees, or hardened sap from resinous wood trees.

Insulation
Insulation by fluffing up female cattail heads or milkweed down.

Insect repellents by applying the expressed juice of wild garlic or onion to the skin, by placing sassafras leaves in your shelter, or by burning or smudging cattail seed hair fibers. Some of above from http://www.wilderness-survival.net/plants-3.php

Hand Sensing of temperature

Use your hand to feel the heat. Of course, every person has a different sensitivity to heat but this works well for me. Just remove the lid from the dutch oven and place your hand just above or just inside the oven. Count how many seconds you can keep your hand there before it gets too hot. It is about 50 degrees per second counting down from 550, so I just count - "550, and 500, and 450, and 400, and 350, and 300, ...".
Seconds Temperature
1 500+
2 500
3 450
4 400
5 350
6 300
7 250
8 200


Good foods to take on the trail

Breakfast
Cocoa Mix to just add water perhaps add some powdered milk
Tang or other juice powder, Lemonade or fruit punch powders,
Bisquick or pancake mix that just needs water
Jelly and margarine in packets
Cereal, oatmeal
Lunch or snacks

Cheese, Cheese sticks, sausage sticks, slim Jims, cheese and crackers
Trail mix Raisins, nuts, M&Ms, pretzels, crackers
Dried fruit, fruit slices, rye bread, cookies

Supper

Freeze dried meals, MRE meals, Frozen premade food partially cooked and ready to heat up in foil
Potatoes, Canned dinners, Mack and cheese, Corned beef and hash, Spam, canned meats, canned stews or bring ingredients and cook your own in a pot.
Look suggestions up in outdoor cooking books or web sites.


Personal measurements


If you measure the width of your hand and its length and with all fingers and thumb spread out, and your finger joints you can find some measurements that can come in handy for making measurements later without a ruler. Also jot down the distance from nose to end of extended fingers and your body height. Figure how many steps you take for 100 feet or meters. Find the distance one two and several foot in front of foot steps take to accurately measure a number of feet and meters. You may find that this may come in very handy when you need to measure a distance and don't have a tape measure.
Additional Quick distance measuring method
Also learn how far 10 feet is and 100 feet and 30 meters by sight. If you need to make a quick estimate of distance stand at one edge (lets say of a stream) place your hand just above your eyes to make a sun shield, bring outside edge of hand down until it just touches the other bank. Keep hand in place and make a 90 degree right turn. Observe the point at the same distance your eye now sees. Pace that off to measure it.

Distress Signals
Many people now days don't even know a distress signal if they saw one. But scouts should be aware of them. Here are some general ones:Three of anything, SOS,m Mayday! MayDay! ... --- ... done by sound by light, by smoke by flags by anything. American flag flown upside down, White cloth tied to car antenna or waved in air or from a flag pole. a person laying on ground when search helicopter flying over, Whistle blowing repeatedly or car horn when it appears that someone is trying to get attention. Scouts should absolutely never make a false alarm. 911 called and phone left off of hook constitute an emergency call.


Tools

Wood Tool Safety: from http://troop501.net/?p=397
The most important thing when using any tool is – Safety, Safety, Safety.


Blood Circle - a method of safely moving the tool around you to determine if your work area is free of obstacles that could cause potential problems.
Ax Yard - an Ax Yard is a marked off area, possibly with rope, to form a safety barrier. The idea is no one except the person using the tool is inside, this keeps other from being accidentally hit and or hurt. Defining the Safety Circle


The circle is found by holding the blade of the cutting instrument (never the handle) in the hand used for cutting, and slowly swinging the arm in a 360° arc. The far end of the handle marks the limits of the circle. Any person or thing within this circle is considered to be at risk of injury. While it is never a good idea to enter another person's blood circle, it is customarily the responsibility of the knife-holder to clear the circle, or to move if the circle cannot be cleared.
Safety Circle
"Thank You" - the magic words of working with tools. If you decide to gave a tool to someone, you will not let go of it until the other person say "Thank You" letting you know that – that person has it and will not drop on you or anyone else. Carrying the Tool - there are proper and not so hot ways to carry tools. For example a shovel should be carried at your side with your hand half way down the handle with the shove blade down but out in front of you. While a hand ax the blade is carried in the hand, and a large ax you carry with the blade facing the ground and your hand about halfway on the handle so that it is angled to the ground.Place a sheath over an ax blade whenever it is not in use.
Carry an ax at your side with one hand, the blade turned out from your body.
If you stumble, toss the ax away from you as you fall.
Never carry an ax over your shoulder.
Safe storage, sheathe your ax and store it under the dining fly or in a tent.


On the trail, a sheathed ax can be tied or strapped to the outside of your pack.
This is the second most important thing when it comes to tools, safety being first.
If you are working in an unsecured area such as a trail use "Coming Through" and "Go For It". "Coming Through" tells someone near by that you will be passing through his work space. "Go For It" tells you that person has acknowledged that you are there and has stopped working to let you safely pass through.
Gear - What type of gear should you have and or wear when working with these tools. For example if you are using an Ax shouldn't you be wearing boots to protect your feet, long pants to protect your legs, long sleeve shirt to protect your chest and arms, gloves to protect your hands, goggles to keep flying wood out of your eyes, and a hard hat to keep a branch from knocking you silly. This may seem a little over kill and it might be, until one or all of these things could have save you from a lot of pain and your life.

The Guide to Safe Scouting states
Knives



A sharp pocketknife with a can opener on it and other sometimes needed tools is an invaluable tool. Keep it clean, sharp, and handy. These pocket tools come in handy and have even helped save lives. Unfortunately in city schools they can get you kicked out of school because many school rules bar any kind of knife. Don't feel bad a mother brought a cake knife to school because she was serving birthday cake to a class and was kicked out. A scout rescued a person from a car that was catching on fire by cutting the person loose from a stuck seat belt with his scout knife and saving a life but was kicked out of school for violating school policy. Zero tolerance policies are really stupid because they don't take into accout the circumstances.
On another topic avoid large sheath knives. They are heavy and awkward to carry, and unnecessary for most camp chores. Make safety a priority. A larger heavy duty knife with a locking blade is advised for heavy cutting. Locking blades are a good safety feature. Some knives have a thumb flipper knob to allow it to be opened quickly perhaps for if you were attacked by an animal. Good cooking knives should be kept sharp and stored so as no one can get cut.

Rules everyone should use when using any kind of hand tool:
Always be safety conscious
Select the right tool for the job
Maintain a safe distance from others
Be sure the tool is in good condition
When not using the tool keep it in a safe place
Use gloves and a hard hat
Pass the tool to another person with the cutting edge down or away from anyone
Mark tools that are damaged clearly so no one else tries to use them
Never throw or run with a tool
When you are carrying a tool on flat ground carry it in your primary hand and if your on a slop carry on the downhill side
Be sure of your footing when using tools

Remember safety first, and safety always!

When used improperly tools can be very dangerous. We can replace tools but we cannot replace eyes, arms, legs or people…

The first part to caring or repairing anything is to know its parts.
axparts



Sharpening a Knife


Sharpen your knife with a whetstone (a sharpening stone). Depending on the stone, will depend if you leave it dry, use a little water, or a tad of oil. Top sharpen a knife, hold the blade against the stone at about a 30 degree angle. That means that back of the blade will be tilted of the stone one-third of the way to vertical. Push the blade along the stone as though your slicing a layer off the top of the stone. Make sure you sharpen each side of the blade the same number of times, to make the blade as sharp and durable as possible. Then wipe the knife off with a clean cloth, and you're done. The below graphic might help you.
sharpknife Getting a feel for the common problems of a tool makes you wonder why most people don't check their tool before using it. Always inspect the tool before using it. Use the 4 S's which are:
STRAIGHTNESS – Hold the tool upright, and look down it's handle is it straight? A warped handle can be dangerous.
SMOOTHNESS – Carefully run your hand down the handle making sure there are no rough spots or splinters.
SET the head of the tool on the ground at a 45 degree angle and left the butt of the handle, and then press it down in the middle of the handle. If the handle doesn't crack or bend it is fine.
SHARPNESS – Check for sharpness visually. When a tool is sharp the cutting edge is shinny and smooth.
NEVER RUN YOUR HAND ALONG THE BLADE.

How to use the tools
Using the tool is probably the most thought of part, but as you have seen it is not the first all though it is equally important with the other parts. We all know that when you are using a knife you always cut away from yourself, when using an ax you cut at an angle to form a "V" in the wood, and when using a saw you cut in long even strokes with the front part of the blade lower then the back.


Camp Saw



A camp saw is the right tool for most outdoor woodcutting. The blades of folding saws close into their handles, much like the blades of pocketknives. Bow saws have curved metal frames that hold their blades in place.
Saw Safety

Saw teeth are needle-sharp. Treat every saw with the same respect you give your pocketknife. Close folding saws when they aren't in use and store them in a tent or under the dining fly. Protect the blade of a bow saw with a sheath made from a piece of old garden hose the length of the blade. Slit the hose down on one side, slip it over the blade, and hold it in place with duct tape or cord. You can carry a folded camp saw inside your pack. With its sheath covering the blade, tie a bow saw flat against the outside of your pack.
Using a Camp Camp Saw



Brace the wood to be cut against a solid support.
Use long, smooth strokes that let the weight of the saw pull the blade into the wood.
When sawing a dead branch from a tree, make an undercut first, then saw from the top down. The undercut prevents the falling branch from stripping bark and wood from the trunk.
Make a clean cut close to the trunk so you don't leave an unsightly "hat rack."
Cut saplings level with the ground so there's no stumps for someone to trip over. After learning about how to use the tool safely and care for it you must Demonstrate your ability to use the tools. This not only gives you hands on experience, it gives you a chance to correct any problems you might have in using the tools.

This is how Green Bar Bill showed how to sharpen a saw in the handbooks he wrote.
fuzzstick

Introduction to Merit Badges



I would like to improve this page. Please send better images, sites, apps, comments to
wecare@macombhistory.us